---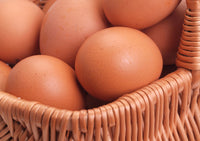 6 Eggs from a separate flock of free range chickens to our soya free flock, slightly cheaper than our other eggs - if you don't have a sensitivity to soya then these eggs will be absolutely fine for you.
If you wish to buy a large quantity of eggs, the number that we can fit into our packing boxes are as follows:
Small - 12
Large - 20 
XL - 26 
We will endeavour to ensure that your eggs are packaged as carefully as possible but reserve the right not to refund or replace any orders that are damaged in transit as this is beyond our control. Eggs are therefore purchased at the buyer's own risk.
We will ONLY post eggs out in a box, which is £15 including next day delivery, so please do not select a cheaper option at checkout.