---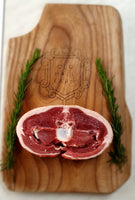 Barnsley chop is prepared from the saddle of lamb and is essentially a slice from the saddle roast. It is effectively a double loin chop.
100% British and beautifully local lamb.
All lambs are butchered on our farm so please do not hesitate to contact us if you would like to discuss an order.