---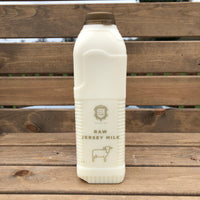 This fabulous RAW Jersey milk comes from the Jersey goddesses at our dairy, who get to keep their calves at foot and dine on lush herby grass and home produced forage. Our cattle are 100% PASTURE FED.
This basket item is for 12L of milk, including courier fee and packaging. Please input your address and select PICK UP for the free delivery.
A2/A2 milk contains a different, more easily tolerated beta casein protein which means that for those with lactose/milk intolerance, it may well be the answer to the "no dairy" plight.
Contains 100% pure cows milk

This milk has not been heat treated and may contain organisms harmful to health